the end of the world
reading club
A unique, monthly reading experience for lovers of apocalyptic & dystopian fiction.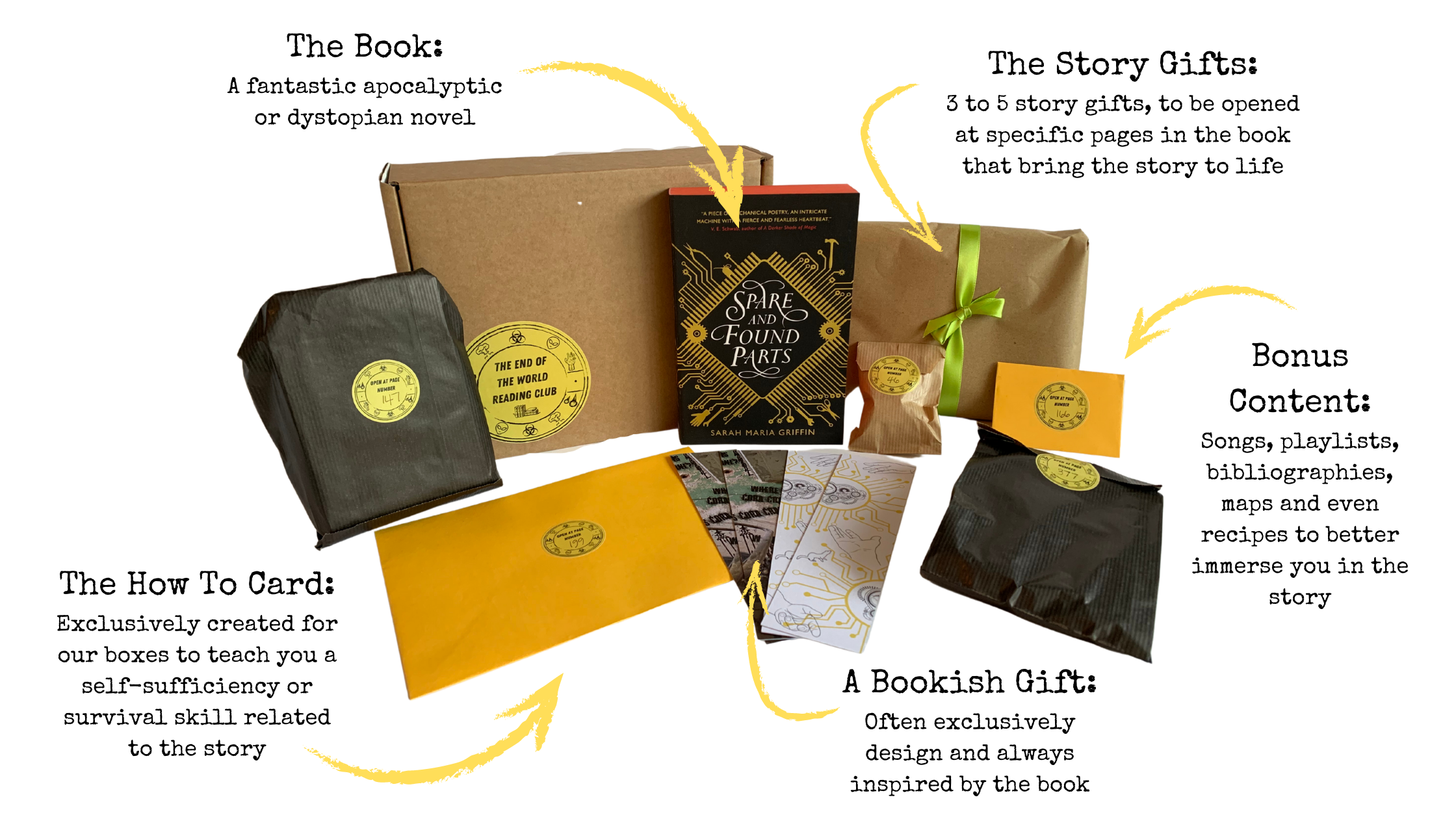 "Our mission is to bring you a deeper enjoyment of your favourite genre of apocalyptic and dystopian fiction, to help you find some great new authors and teach you some skills to survive the end of the world. And bring together a like-minded family of readers along the way."

Click on the subscribe button and sign up
for your prefered subscription term.
(Subscriptions from £31 per box
including shipping)

We prepare your book, wrap your gifts and write your 'How to' guide then package them snugly in
recyclable packaging ready for posting out on 15th of the month.

Posty brings your box of goodies and you
get comfy and start reading. Unwrap your
gifts on the pages indicated to
bring the story to life.

think of The End of the world reading club as your monthly reading advent calendar!
Reach certain pages in the book to unwrap your unique story gifts & bonus items - all tied in to that particular plot point to bring the sights, sounds, tastes and experiences of the story in to glorious 3D!


Everything in your box will be either Useful, Educational or Edible - no useless tat, ever!


Fill your bug-out bag and your apocalypse pantry with heaps of useful, practical items.


Build yourself an offline library of self-sufficiency and survival skills.



Enjoy exclusively designed bonus items that truly immerse you in the fictional world.
But what if i have
the book already?
Don't worry, if you already have the book for a particular month we'll replace it with something you haven't read, no quibbles.
/** * @var $module \Ucraft\Module */ ?>
Rhianna Campbell

You all know about book subs boxes - you sign up, get a mystery book and a selection of random themed items which, whilst being lovely, are often quite useless and just take up room beause you don't wanna chuck them out!

The End of the World Book Club is NOT like that, EVERYTHING in the box is useful! And because the focus is on apocalyptic type books you get a crash course in survival skills too! Honestly, I really enjoyed this box - all items were really clever and drew you right in to the story, and they were also useful items I will actually use. It was a real experience - definitely reccomended!

Kerry Bird

What a fantastic concept and product! I love how each little package brings the story to life. For someone like me who enjoys reading but doesn't always get the time or starts a book and doesn't finish it, this keeps me reading on to find out what I will open next! Also great to be introduced to authors and books I hadn't thought about reading before. 10/10

Jacky Walker

My daughter loves the subscription boxes. She had great fun opening the package (as did I watching her ). Having read the book and opened the gifts at the right time she said she felt "immersed in the story." Great concept, well done to the creative genius who created the box, they are clearly passionate about this genre.

Lisa Grove

Such a great idea! I really enjoy reading through and opening the bits and pieces relating to the story. It's great fun and I really looked forward to each cue on the page.

Hannah Brown

What an amazing idea, I absolutely love getting this box through the post . The books are great and having all the little presents to open makes it so exciting, I read the books more often just so I can get to the next present . Such a great idea for a gift too, it really does cheer you up getting this through the letterbox.

Carly Newman

I had so much fun and loved the experience. I loved reading something I wouldn't normally that I really enjoyed and having the excitement of opening things along the way which all made me really smile. I just loved it, such a good idea!

a few of our past boxes...
A book club,
not just a book box
The End of The World Reading Club isn't just another book box - it's also a club. As a subscriber you'll get access to TEOTW Reading Club Facebook community where you can:
chat with like minded people about the books, self-sufficiency and all things apocalyptic

join in with our virtual book club meetings

get exclusive content like author interviews

get first dibs on limited edition boxes and merchandise

take our member polls and help shape the future of the club